All citizens, both men, and women aspire to have the ideal body. Fitness achievement is described as achieving a balanced, lean, and toned body while maintaining a calm mind. Even so, to reach your perfect number, you would need to put in some time and hard work. The procedure will also take some time.
There are few ideas you could follow to reach your dream figure in just a matter of seconds. We know that your appearance has a significant impact on your confidence; the following shapewear and waist trainer can help you get your perfect figure.
NeoSweat 3 in 1 Waist and Thigh Trimmer Butt Lifter-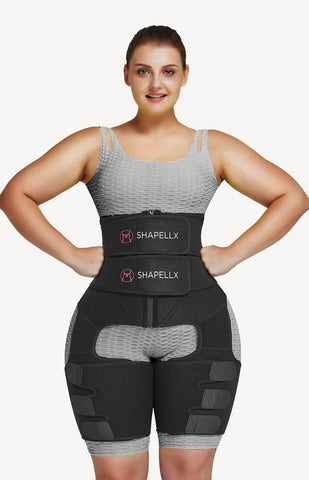 NeoSweat™ 3-In-1 Waist and Thigh Trimmer Butt Lifter
This outstanding NeoSweat plus size waist trainer offers firm support to help move the belly down while simultaneously trimming the waist and lifting the buttocks.
This great shapewear helps to reduce hip dips and is also easy to wear when exercising out. Furthermore, this shapewear is easy enough just to wear every day. This waist trainer's warmth retaining functionality also helps to tone the hips and thighs.
NeoSweat 3 in 1 Ultra Sweat Waist and Thigh Trimmer \ Booty sculptor-
NeoSweat™ 3 In 1 Ultra Sweat Waist and Thigh Trimmer | Booty Sculptor
This waist and thigh trainer for females designed to help your whole body and shape each of your vital body parts. It does have a triple purpose of rounding up the hips and snipping the legs and shaping the butts and ensuring you stay out of hip dips.
Furthermore, the waist wrap belts are removable and flexible. The legs' harnesses are also adjustable. Additionally, the neoprene material also used makes this shapewear very convenient to wear. This shapewear enhances temperature and sweating in the intended places to structure the body.
AirSlim™ Post Surgery Firm Control Full Body Shaper with Sleeves- 
You would enjoy this full-body shaper, as per the buyers. For full-body control, the perfect body shaper for ladies offers 360° body pressure. This shaper raises your boobs as well as shaping your hips, calves, and belly. Your shape can be enhanced by the shaper, allowing you to wear more of your skirts. Get the ideal body by purchasing this full-body shaper for everyday use.
AirSlim™ Power Control Full Body Shaper
AirSlim™ Power Control Full Body Shaper
A women  body shaper with a unique but straightforward design would undoubtedly grab your attention. If you're off on a weekend getaway, bring it with you. You would look stunning in all of your dresses and would be complimented on your toned physique. The flexible net fabric suits all chest sizes well. Have this lovely shapewear to achieve a flawless slim figure.
CONCLUSION
Follow a well-balanced diet and exercise regularly to have your dream figure because shapewear is only a temporary solution as the waist trainers and bodysuit accelerates the heat to help you snap back. But it doesn't replace a healthy lifestyle.