FREE SHIPPING OVER $80+
SIGN UP FOR AN EXTRA 10% OFF
BUY 2 GET AN EXTRA $8 OFF CODE:SAVE8
BUY 3 GET AN EXTRA 15% OFF CODE:SP15
This Camouflage Double Straps Latex Waist Trainer instantly sculpts your midsection, lowering your waist measurements. The design helps you to stand taller and straighter for a more confident posture. Wear it comfortably and discreetly, any day of the week, underneath almost any outfit: work clothes, gym outfits, summer dresses, or your most stunning special-occasion gowns. The waist trainer features high-compression latex, reinforced with flexible steel boning for maximum effectiveness. You'll maintain your hourglass shape all day without compromising your comfort.
Features:
> Quick-strap design is perfect for working out
> Double-Velcro for a secure fit and quicker on/off
> A vertical zipper keeps the garment secure and firm
> High-compression latex core shrinks your waistline
> Flattens belly and bulges
> Supports back and posture
Note: We recommend to choose a size up.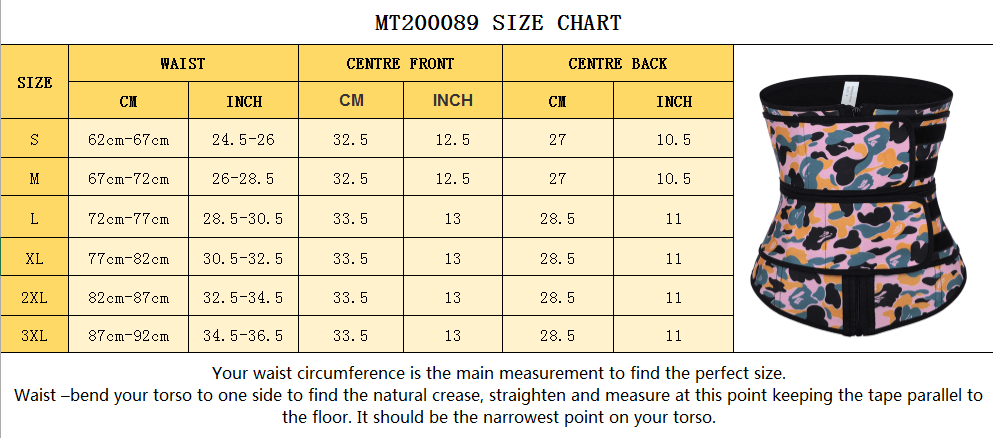 We offer easy, free exchanges for 30 days. If there's ANYTHING wrong with your order, please let us make it right!
Worried your item won't fit you? Made a mistake? Even with all the help we provide, it can happen. You have 30 days to ask for another size and we'll send it over - free of charge!
No need to worry about anything on Shapellx - we're here to make things right ;-)
Size
US
WAIST
HIPS
inches
inches
S
4~6
26~27
36.5~37.5
M
8~10
28~29
38.5~39.5
L
12~14
30.5~31
40.5~41.5
XL
14~16
32~33
42.5~43.4
XXL
16~18
33.5~35
44.5~45.5
3XL
18~20
35~37
46.5~47.5
Size
US
WAIST
HIPS
cm
cm
S
4~6
66~69
93~95
M
8~10
71~74
98~100
L
12~14
76~79
103~105
XL
14~16
81~84
108~110
XXL
16~18
86~89
113~115
3XL
18~20
91~93
118~120
You May Also Like