Are you looking to hop on the waist trainer bandwagon to see if they're worth the hype? This guide will help you find the best one for your weight loss journey.
Achieving a defined waist is not easy, and your weight loss journey may present many challenges. Whether you're struggling with postpartum weight gain or worry about your growing waistline due to a sedentary lifestyle, getting an hourglass figure can be challenging.
People started looking for easy solutions as shaped tummies and snatched waists became trendy. And while there is nothing that can instantly make your dream come true, a few things can help. For instance, using the right waist trainer will help make your belly look flatter and slimmer.
It's your best bet to shape your figure, easing your struggle with weight loss around the waistline. Continue reading to learn about waist trainers, choosing the perfect one for your body, and much more.
Waist Trainers for Weight Loss
Most of waist trainers are made from thick elastic fabric with laces to keep it strapped around your stomach. You can adjust the waist trainer using the laces, zippers, etc., attached. This freedom for adjustment allows you to stay comfortable for as long as you decide to wear them. It will also suppress your appetite and get you to enjoy smaller portions, hence helping you get faster results.
While waist trainer style is one of most effective shapewear for weight loss, it can even feel quite painful if you don't have the habit of wearing one. But lucky for you, the NeoSweat® Abdominal Binder Latex Tummy Wrap is an exception, made with 6 pieces of segmented hook and loop fasteners, you can adjust the tightness according to your needs.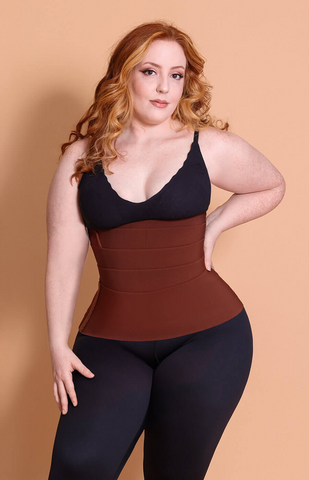 Choosing the Best Waist Trainer
Remember, the 'best' waist trainer is practical, comfortable, and suits your specific style. Here are some factors to consider when choosing a waist trainer for yourself.
Boning
Usually, people prefer waist trainers with steel boning as it provides better results. The steel gives it a firm and sturdy structure that allows you to maintain a healthy body posture during a workout or any other physical activity. While they can be painful, waist trainers with steel boning have inner padding that protects your skin from irritation.
Thus, the boning affects other factors such as durability and flexibility.
Size
Waist training is an easy and effective weight loss solution. However, the wrong size waist trainer will do no good for your weight management and fitness journey. You can wear a waist trainer for months and see no visible difference if you fail to pick the right fit for your body shape and type.
Before making a purchase, measure your waistline and find the right size. In case you can't find one with your exact measurements, pick a size bigger rather than going for a smaller size. To avoid discomfort, take proper measurements and read the size guides carefully.
Shape
Besides the boning material, the type of waist trainer also depends on its shape. Generally, you will find two main types: over-the-bust and under-the-bust trainers.
As the name suggests, you can wear over-the-bust waist trainers over your bust area. Starting there, it should go all the way to the beginning of your hipbone. This type of waist trainer provides more coverage for effective weight loss.
On the other hand, under-the-bust trainers do not provide as much coverage. But, that does not mean that they are not effective. These start from under your bust and go down to the hips.
You can comfortably wear under-the-bust trainer like NeoSweat® Double Power Waist Trainer to the gym, work, school, etc. This waist trainer will allow progressive tightening and help you create a slimmer waist and an hourglass figure.
Torso Length
Your torso length is another critical consideration you must not forget when buying a waist trainer for weight loss. The length of the torso area differs from woman to woman. While some women have bigger torsos, others have shorter ones. Make sure you measure your torso before finalizing your purchase.
Material
Next up, you also need to be careful about the material the waist trainer is made of. Generally, Best of them have a latex construction since it's a stretchable yet firm material. It is better to go for a waist trainer like the NeoSweat® 3-In-1 Thermo Active Fat Burner. The inner layer of this trainer is made with 100% Neoprene, whereas the outer layer is made with 100% polyester. It gives just the right amount of compression to aid weight loss.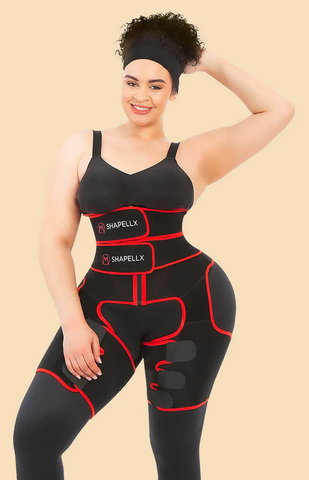 Adjustability
Slimming and shaping your waist by cinching them is all waist trainers are about. Thus, you must consider how adjustable a particular product is.
Different waist trainers come with different types of closure options. For example, the adjustment level of a hook-and-eye closure will be different from a lace-up closure. Make sure to choose the appropriate tightness according to your requirements.
Comfort
While waist trainers are supposed to hug your body tightly, they must not be too tight. In such a case, your waist trainer can cause discomfort and even obstruct your breathing.
So, consider the comfort level of all your available options and pick the one you think is the comfiest.
Conclusion
Waist trainers are an easy and effective weight loss solution for shaping your waist and losing a few inches of fat. But, choosing the right one can be tricky. Consider factors like boning, size, shape, torso length, material, adjustability, and comfort.
Are you planning to start waist training soon? Let us know how it goes by connecting with us on Instagram: @shapellxofficial.