Are you looking for a postpartum body shaper to help your figure return to its former glory? Getting the best postpartum shapewear can improve your posture and balance your body weight. In addition, it's an excellent way to manage pain after delivery. They can aid in managing lower back pain, pelvic pain, and even cramping when used regularly. Furthermore, new moms report improved confidence when going through a challenging transition from pregnancy to postpartum life.
Good postpartum shapewear has an elastic nature that provides compression and naturally encourages you to stand with your back firmer and straighter. Maintaining such posture alleviates pain in the lower back and lumbar area by default.
Here are a few factors to consider when choosing postpartum body shapers and the three best options by Shapellx to benefit you in the long term. 
Comfort
You should pick postpartum shapewear that keeps you comfortable and allows easy mobility throughout the day.
Ease of Wear
It should be easy for you to put on and take off conveniently and safely.
Fabric Material
Your body is still recovering, so you want to pick a fabric detail that is light and breathable on your skin.
Support
It should helps support core abdominal muscles and return the uterus to its original size sooner.
Here are some postpartum Shapewear for Recovery we've selected for you.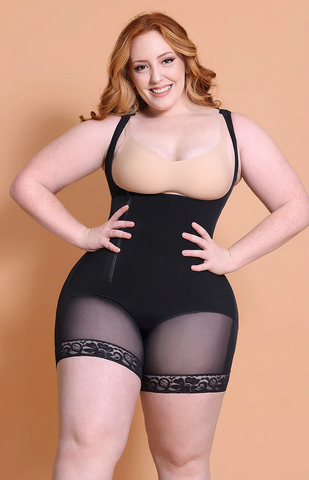 Wear this bodysuit to enjoy an entire day of confidence and comfort. You can rock an hourglass figure and look flawlessly sexy for a typical day out. This item is available in two neutral colors, black and beige, so you can pick one that will complement your clothes better.
It has six different sizes that you can choose from after analyzing the size chart provided. Furthermore, the key features include an open design that makes it convenient for you to use the bathroom. There are side zippers and removable and adjustable straps, making it user-friendly to put on and take off.
This full bodysuit also comes with anti-rolling silicone strips on the edges to prevent it from rolling up. The best part is no thigh imprints on your skin. Your tummy will feel fantastic with the three-layer abdominal compression, which strengthens tummy control.
The front collar sports a U-shaped design to push up the bust, giving your boobs a perkier look. It also means that you get a gorgeous hourglass figure. There are even hooks and zipper closures to provide an adjustable tight fit. This means you get a long-lasting waist-cinching effect minus the hassle of not being able to breathe.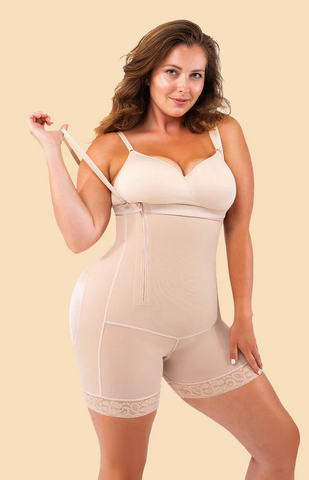 Just like the bodysuit, this postpartum MaxAb support comes in two beautiful colors black and beige. The neutral colors are ideal as they work great under all colors. This item is suitable for various sizes,  so you can choose from 9 sizing options!
This clothing item has been designed with an open to hold and support your breasts. It features a side zipper and removable, adjustable straps to keep the shapewear in place. The high compression sculpts your silhouette from every angle.
Wearing this shapewear after pregnancy is a great idea because of the panels that help mold your tummy when you're looking to wear something skin fit. On the back, it lifts your buttocks, and the silky material is excellent for a flawless silhouette under any outfit, giving you all-day comfort.
It is made up of 30% spandex and 70% nylon. Be careful not to toss it in the washer, as washing instructions indicate that you should only wash it by hand. Avoid dry cleaning, ironing, bleaching, or tumble drying to help it last longer.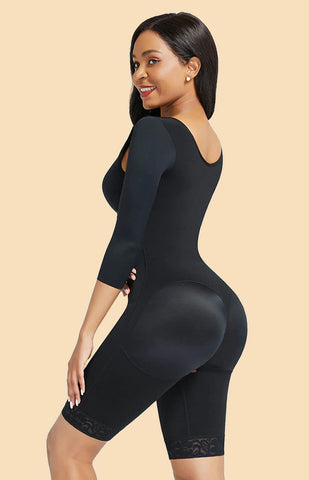 If you're looking for a shapewear after pregnancy with a fully built-in undetected suction-stretch, using this shapewear after pregnancy is ideal! This high compression bodysuit is brilliant at nipping your waist and lifting your butt, wrapping your arms, and improving the shape of your tummy to sculpt your hips and thighs better.
The body shaper has a skin-tight and smoother-than-smooth fit. It is snug enough to show compression impact and has a breathable material that allows full-body movement. Even after a complete meal, it will keep your stomach flat and pretty with zero lumps and bumps, sculpting your figure to accentuate your curves. 
It is excellently comfortable, despite its pulling and holding powers, so even a full day of wear won't tire you out. It has directional contour bands to shape your hips and waist and lift your butt. For those who fall into the postpartum or post-liposuction categories, it's a perfect buy that promotes tissue recovery and accelerates overall body recovery.
The fabric details are different from the exterior and interior. On the outside, you'll find 78% nylon and 22% spandex, and on the inside, you'll get 74% nylon and 26% spandex. 
The Bottom Line
Lucky for you, these products by Shapellx will help your body in recovering faster while accentuating your figure. After all, being confident, positive, and content with your body image also affects your physical health.
Are you ready to feel and look better? Let us know by connecting with us on Instagram: @shapellxofficial.