Summer weddings have a certain, undeniable charm. 
They're fun, free, light-spirited, and just bursting with colourful, vibrant vibes. Even a classic white-and-cream theme seems brighter under the beautiful summer sun.
The only (potential) drawback? 
Temperature. 
The heat can be pretty unforgiving this time of the year, and outdoor ceremonies—like beach or garden weddings—are often at the mercy of Mother Nature. However, we believe that every blushing bride deserves to look like a fresh, radiant goddess on her big day, no matter what the season.
So, we've put together a list of our top 3 shapewear for summer styles to help every bride match their dress fitting with a seamless base. These wedding dress undergarments will help you get your perfect shape regardless of the fashion trend you're working with. But also, guide you towards your best pick for breathable summer shapewear. 
Clingy Gowns and Corset Bones Do Not Mix
If the fabric of your gown is clingy—like silk, satin, or charmeuse—stay away from shapers with seams, bones, large hooks, and regular zippers. Shapewear for summer needs a different approach.
It doesn't matter what style you're wearing—sheath, A-line, trumpet, backless, et cetera—or how your dress is cut. Your wedding gown is already tailored to fit your bare body, and any extra lumps underneath (no matter how small) can look awkward. 
Definitely not something you want to worry about on your big day, or other special occasiona.
Best shapewear for Clingy Gowns: Seamless Bras + Shorts | Seamless Camis | Seamless Bodysuits | Full-Body Shapers 
To stay smooth and streamlined, opt for something that fits like a second skin. For bras, opt for pieces that are fitted exactly to your bust and have minimal (or invisible) hooks. 
You can get them sewn into your gown (a practice that is a lot more common than one would think) for minimal stressing, maximum comfort and support. Alternatively, bodysuits with supportive built-in bra cups can offer the same cohesive, supported silhouette. They go perfectly for strapless dresses, and are the number one preference in shapewear for summer.
Look for streamlined comfortable shapewear that lightly sculpt your body without any bells and whistles. Check out the  PowerConceal Lycra™ Cami Seamless Bodysuit or the PowerConceal™ Low-Back Hourglass for some ideal fits. 
Beat the Heat with a Little Lace
Summer temperatures don't often mix too well with heavy fabrics like silk, rayon, satin, and gabardine—which is why many brides and bride-to-be's opt for a lighter material like chiffon and organza. Your shapewear should be just as light and breathable if you want to look and feel fresh on your big day. 
Some brides might want to skip the shapewear for a summer wedding, however for those that want to feel extra trim, toned, and tucked-in, shapewear can be the quickest way to achieve that look—and feel secure all day long. All while rocking the seamless undergarments game.
Best shapewear for heat: Stretchy Lace Sets | Thin Mesh Sets
Yes, there are shapewear pieces out there made of sheer, breathable fabric that offer seamless compression. And, yes, they're still strong enough to keep you flat and toned. If your primary concern is staying cool, comfy, and sweat-free for the entire ceremony (and reception!), a lacy little number (like this AirSlim® Lace Smooth Bodysuit) will do the job beautifully. Lightweight compression will always come to the rescue with extra lift for the entire body. This type of summer breathable shapewear is another wedding undergarment favourite. 
Compression Bodysuits are a Mermaid's Best Friend
If you've opted for a trumpet/mermaid wedding gown, the focus is going to be on your waist, lower torso, hips, and upper thighs. You'll want to achieve a smoother silhouette in that area without restricting yourself any more than your dress already is. Go for comfortable shaping. 
Corsets, waist wraps, and upper-torso-focused shapewear have traditionally been the go-to for brides looking for a compression around the midsection. However, many undergarments cut off anywhere from your navel to your hips, causing unflattering bunching and/or upside-down muffin-topping. 
Luckily, we have a solution. Firm compression shaping.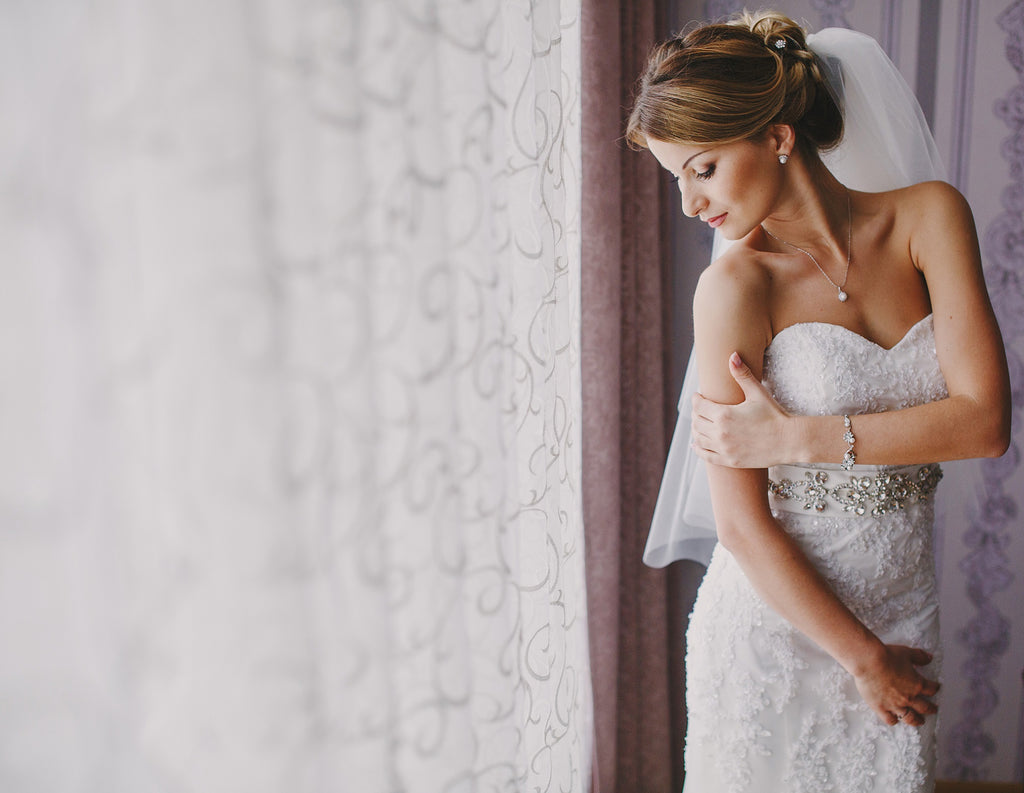 Best shapewear for Mermaid or trumpet dress style: Bodysuits | Shapewear Shorts (+ shorts sets) | Compression Shapers
Shapewear pieces that neatly tuck your thighs, hips, and tummy are a winner here. Try seamless shapewear shorts to keep your thighs and bum looking smooth. Just make sure they don't roll up! If the shorts come as a set (i.e., with a matching bra/top), even better. 
Bodysuits made from compression fabric are great for creating a streamlined silhouette that'll hold its shape regardless of how (and how much) you move. Try something with extra-abdominal compression (like our CoreSculpt™ Firm Tummy Compression Bodysuit Shaper with Butt Lifter) for an extra trim and sexy figure.
Your wedding dress, regardless of your size, shall fit you perfectly and highlight your silhouette flawlessly. Shapewear, is your secret weapon to help you achieve that, with a smooth base and no visible lines. Share with us your favourite dress styles. We'll help you choose your best body shapewear to flaunt your curves and highlight your features. All that, while doing justice to your wedding dress.